Waavebox
Versatile, real-time, precision signal / waveform generator
Channel D Pro Audio Product - versatile, easy to use software based signal generator – invaluable for audio testing and laboratory applications
Uses native Mactintosh sound output capabilities or third party I/O device support (via Apple CoreAudio)
Precision waveform generation: 6 digits of frequency resolution; periodic waveforms are calculated with 64 bit math
Intuitive, easy to use analog style signal generator user interface
Optional add-on to Mac the Scope - or stand-alone application; included with Mac the Scope Complete
A functional (hands-on) demo is available (included with the Mac the Scope demo)
An economical Lite version is available with most of the features of the full version
Compatible with Mac OS X 10.2.6 and later (including Mac OS X 10.6 Snow Leopard), G3, G4, G5, Intel processor
---
Screenshots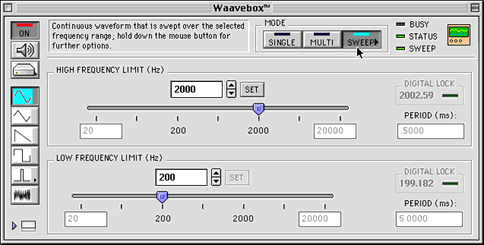 Versatile, easy to use software based signal generator - - invaluable for audio testing and laboratory applications.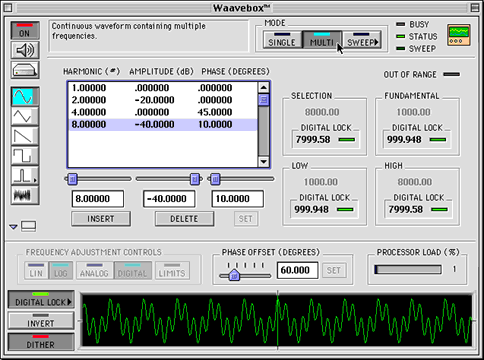 Waavebox was designed after considering the analog, bench-top function generator paradigm - plus: user configurable slide controls and push buttons, with keyboard support for precision settings.
General Information
Uses Macintosh built-in (or third-party) sound output capabilities for signal generation (and integrated, full-duplex analysis from Mac the Scope)
User-friendly, interactive interface makes obtaining various output waveforms simple
Default frequency range 20 Hz to 20 kHz (control limits can be set to be outside this range); waveforms from millihertz to ultrasonic (limited by output device)
Precision, low-distortion waveforms computed with 64-bit math (See screencap illustrating the spectral purity below)
Interactive, flexible controls with selectable "analog" (continuous) or "digital" (discrete) emulation modes, linear or logarithmic scales
Controllable via AppleScript
DIGITAL LOCK option matches binary sequence length to other analysis software; avoids frequency domain scallop loss and leakage effects
On line help in main Console (just move mouse over item, for information about item)
Features
Sine, Triangle, Sawtooth, Square / Pulse (bipolar or unipolar, with variable period and pulse width), Inverted Polarity, Adjustable Phase Offset
Dither option for periodic waveforms improves waveform quality
Almost any audio frequency (6 digits of precision) may be obtained - - waveform frequencies are not constrained to even divisors of the sample rate
Single- frequency or Swept waveforms
Multi- Harmonic (independently adjustable amplitude, frequency, phase) super- or sub- harmonic waveforms, up to 128 summed harmonics
White, Pink or "Red" Noise; selectable 1/3 octave bandpass filtering with band centers from 20 Hz to 20 kHz: single band or combinations of bands, boost or cut, "brick-wall" elliptical filters with 16-pole cutoff slopes and flat tops within 0.05 dB for single filters, 0.5 dB for summed filters
Super flat Pink noise generator, better than other sources (CD recordings, hand-held generators, etc.)
---
Waavebox Waveform Distortion Measurements and Sample Files
The Waavebox AIFF files used to generate the plots below are included with the Mac the Scope download installation. The files contain dithered, single-frequency sine waves, with 16 and 24 bit resolution.

(To "play" the sound files, rather than analyze them with Mac the Scope, open with the Apple "Movie Player" / "QuickTime Player" application that is part of the QuickTime 3.0 (or later) software package.)
To analyze the waveform files:
Double-click the downloaded waveform archive to decompress it (if your browser hasn't already done so).
Drag and drop the aiff16 file onto the Mac the Scope application icon.
After the file has been loaded, activate the Mac the Scope browser window.
Click CONT, the bottom (x-axis) LOG button, and the horizontal grid button ().
Select None (Square Top) from the Weighting menu.
Click on the file processing dialog box. Select Loop from the popup menu.
Repeat with the aiff24 file, if desired:
Change the display scale to view the noise floor of the file, which has a greater dynamic range:
Click ARBY and enter -180 and 0 in the top two text entry boxes (respectively).
Click OK.
Selecting CONT activates Mac the Scope's continuous signal averaging. This provides a better analysis of waveforms created in conjunction with a dithering function. Here, signal averaging unmasks periodic distortion components and the true noise floor.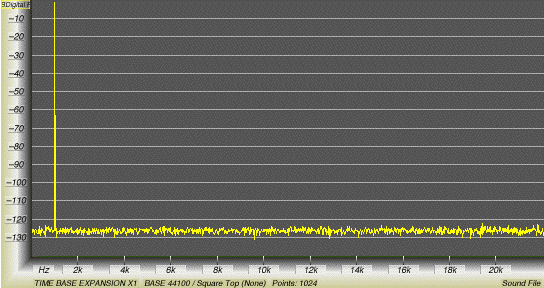 Analysis of 16-bit AIFF file (1 kHz sine wave) generated by Waavebox. Display scale 0 to -140 dB relative to digital full scale. A square top window was used, because the Waavebox - generated waveform is frame-aligned.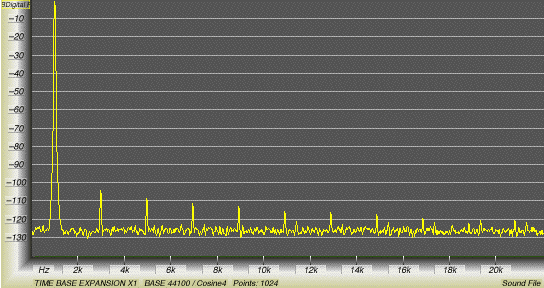 Analysis of 16-bit AIFF file (1 kHz sine wave) generated by free waveform generator software obtained from the Internet. Display scale 0 to -140 dB relative to digital full scale. A Cosine window was needed, to compensate for edge effects.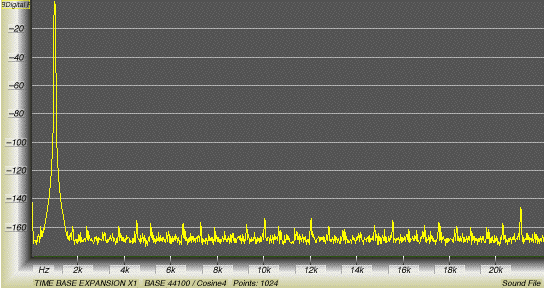 Analysis of 24-bit AIFF file (1 kHz sine wave) generated by Waavebox. Display scale 0 to -180 dB relative to digital full scale. A Cosine window was used.
---
Waavebox Plugin Edition
Included in the Mac the Scope Demo / Updater package.
Previous Version
AudioLeak 2.2 | Download
System Requirements - AudioLeak is a Universal Binary that runs natively on PowerPC and Intel Macs. Requires Mac OS X 10.4 or later, G4 or newer CPU.
Supports - ITU BS.1770 Leq(RLB) and Leq(R2LB) LKFS units (AudioLeak Professional)