[Support] [Product Info] [Downloads] [Ordering] [Home <www.channld.com/software.html>]
PowerBook G3 500 MHz
Full duplex 1 kHz Distortion and Noise: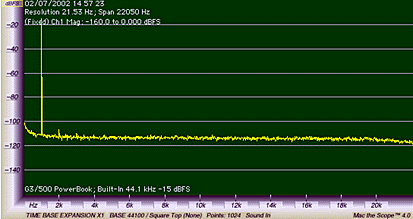 Jitter, full duplex:
Measurement conditions:
Computer: 500 MHz G3 PowerBook (FireWire / Pismo / 2000), 256 MB RAM.
Measurement software: Mac the Scope, 2048 point (X2) FFT, Square window function, linear frequency axis.
Stimulus signal was generated by Mac the Scope / Waavebox. Signal: 1 kHz / 11 kHz, DIGITAL LOCK enabled, 1024 sample latency (e.g., sequence length).
Measurements were made at 44.1 kHz sample rate, 16 bit. Channel 1 is shown, and represents other channel.
Plot range is -160 dB to 0 dBFS.
Note: the distortion measurements may be replicated with the free, demo version of Mac the Scope (the session timeout limit provides ample time for making the measurement).