[Support] [Product Info] [Downloads] [Ordering] [Home <www.channld.com/software.html>]
LynxONE PCI Audio Interface
Full duplex 1 kHz Distortion and Noise: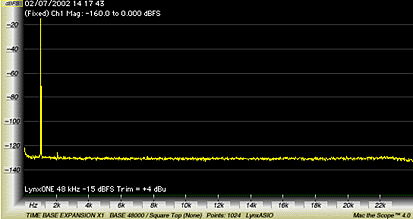 Jitter, full duplex: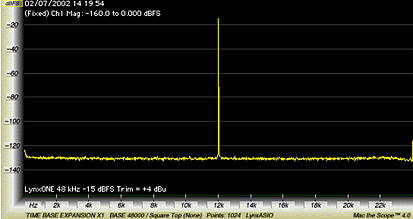 Multi-harmonic test: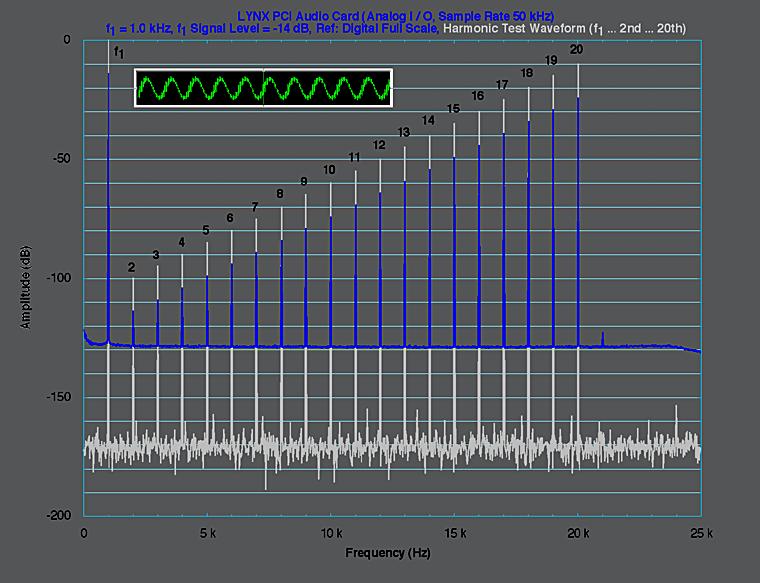 (above) White trace, input waveform (sound file created with Waavebox and analyzed with Mac the Scope). Blue trace, full duplex response measured with LynxONE. This shows extremely low distortion and good linearity from LynxONE. The LynxONE was set to a sample rate of 50 kHz (its maximum sample rate).
Measurement conditions:
Measurement software: Mac the Scope, 2048 point (X2) FFT, Square window function, linear frequency axis.
Stimulus signal was generated by Mac the Scope / Waavebox. Signal: 1 kHz / 12 kHz, DIGITAL LOCK enabled, 1024 sample latency (e.g., sequence length).
Measurements were made at 48 kHz sample rate (except where noted), 24/32 bit. Channel 1 is shown, and represents Channel 2.
Connections were made by plugging the input and output XLR connectors together.
Plot range is -160 dB to 0 dBFS.
Note: the distortion measurements may be replicated with the free, demo version of Mac the Scope (the session timeout limit provides ample time for making the measurement).