[Support] [Product Info] [Downloads] [Ordering] [Home <www.channld.com/software.html>]

Waavebox (TM)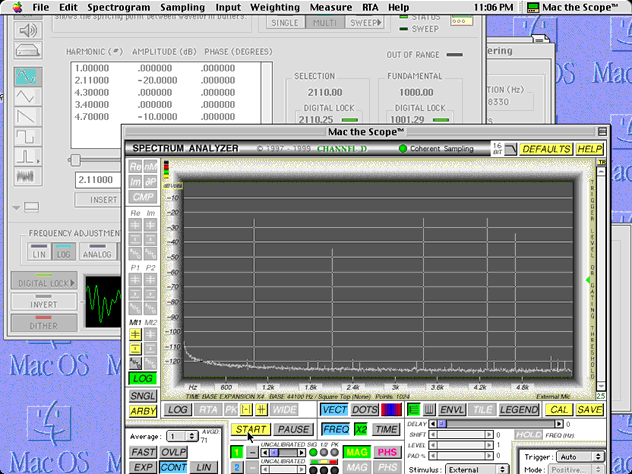 Mac the Scope measurement of Waavebox multi-harmonic sine waveform output. Fundamental was set to 1 kHz. Harmonics # 2.11, 3.4, 4.3 and 4.7 were selected and mixed; relative amplitudes were set at 0, -20, 0, 0 and -10 dB, respectively (overall amplitude is set with the Waavebox LEVEL control).
DIGITAL LOCK was activated for Mac the Scope frequency "bin" tracking (eliminates frequency domain scallop loss and leakage effects). Mac the Scope time base was X4 (5512.5 Hz span).
(Note: the top of the Waavebox Console window was dragged "above" the Macintosh menu bar, using the window border).
Note: any Waavebox periodic waveform can be used with the multi-harmonic generator.
[Support] [Product Info] [Downloads] [Ordering] [Home <www.channld.com/software.html>]